Diese Veranstaltung hat bereits stattgefunden.
Prof. Dr. JI Chuanbo 汲传波 (Peking University 北京大学): 面向第二语言教学的汉语语体语法研究 (Turning towards research on Register Grammar for Teaching Chinese as a Second Language)
Mai 23, 2019, 18:00

-

20:00
摘要:第二语言教学的目标是培养学习者正确、流利、得体地使用二语的能力,其中"得体"与否往往涉及语体问题。无论是英语二语教学,还是汉语二语教学,研究者都发现学习者的书面语中存在口语化倾向;与母语者相比,无论是初级二语学习者,还是高级二语学习者,语体能力都存在不足。本讲座将从语体语法的视角出发,介绍汉语二语教学界关于语体习得研究的相关成果和最新热点,分享个人对语体习得研究的一些思考。
Abstract: The goal of second language teaching is to cultivate the learner's ability to use the second language correctly, fluently and "decently", though the latter often causes problems in terms of language registers. Whether in Teaching English as a second language or Chinese, researchers have found that learners have a tendency of using colloquial language in texts that should adapt a written language. In comparison to native speakers, the capabilities of using written language registers are insufficient, affecting beginners as much as advanced second language learners. This lecture will introduce relevant achievements and latest hot spots of the research of register acquisition in the field of teaching Chinese as a second language, and share some thoughts on the given topic.
The lecture will be held in Chinese language.
讲座将用中文进行。
简介:汲传波,应用语言学博士,教授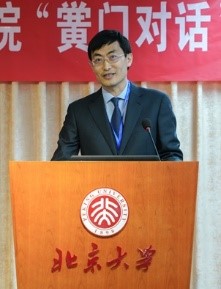 。2002年7月至今在北京大学对外汉语教育学院工作,其间曾赴英国牛津大学、韩国梨花女子大学任教。研究领域为面向第二语言教学的汉语语体、语法研究;"三教"研究(教师、教材、教学法);语言生活状况研究。著有《强调范畴及其若干句法研究》等,发表论文30余篇。
JI Chuanbo (Ph.D.) is professor of Applied Linguistics. Since July 2002, he has worked at the School of Chinese as a Second Language at Peking University. During this time, he has stayed as well at the Oxford University in the UK and the Ewha Women's University in Korea. His research interests include Chinese language and grammar for second language teaching, research on the "three T's" (teacher, textbook and teaching methods), and reports on the language situation in China. He has published more than 30 papers as well as a monography on "Study on the Emphatic Category and Some of Its Syntax".
Ähnliche Veranstaltungen