Diese Veranstaltung hat bereits stattgefunden.
Contemporary Theater Arts Seminar Series No. 7
Dezember 8, 2021, 13:00

-

14:30
Illustrating the Stage of Hong Kong for Audiences of the Present and the Future – My Creative Journey as a Curator of the Exhibition "A Snap beyond Borders"
Bio: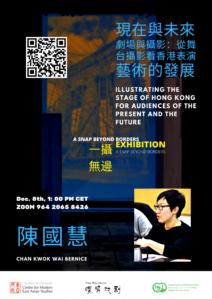 Chan Kwok Wai Bernice is currently the General Manager of the International Association of Theatre Critics (Hong Kong), and an Examiner for the Hong Kong Arts Development Council (Drama Committee). She is also a Panel Member of the Hong Kong Drama Awards, the Hong Kong Theatre Libre, and the IATC(HK) Critics Awards, as well as an Executive Committee Member of the International Association of Libraries, Museums, Archives and Documentation Centres of the Performing Arts (SIBMAS).
She received the Hong Kong Arts Development Council-University of Leeds-Chevening Scholarships in 2005 and obtained her Master of Arts in Theatre Studies from the University of Leeds (UK). She was also an Art Form Panel Member (Festivals) of the Leisure and Cultural Services Department (2011–2016), an Advisory Committee Member of School of Drama, the Hong Kong of Academy for Performing Arts (2017–2018), as well as a guest host of Artscritique (2007–2018)and a Radio and Television Hong Kong radio programme. Chan has curated and edited over 50 publishing projects about performing arts. Her recent editorial projects have included Ten Years of A City: Selected Hong Kong Plays (2003–2012), which was awarded the 11th Hong Kong Book Prize in 2018, and "A Snap beyond Borders: An Online Archive and Education Project of Hong Kong Theatre and Performance Photography".
Zoom Meeting: https://uni-goettingen.zoom.us/j/96420658426
Meeting ID: 964 2065 8426
Language: English
Organizer: Ying Ming Theater